Safety and Empowerment Skills Class: Session 4 of 4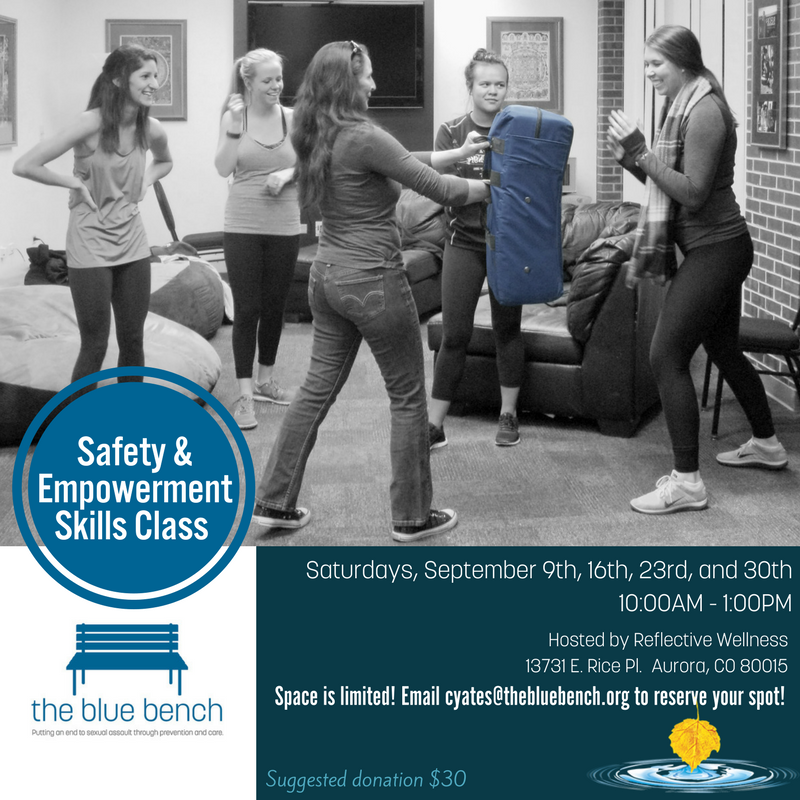 The Blue Bench is pleased to present to the public Safety and Empowerment Skills for Women and Girls, hosted by Reflective Wellness, on September 9, 16, 23, and 30!
DETAILS
Course Dates: Saturday September 9th, 16th, 23rd, and 30th *
Course Times: 10:00AM – 1:00PM (each date)
Course Location: 13731 E. Rice Pl. #200 Aurora, CO 80015
Course Cost: A donation amount of $30 is suggested, but not required, for class attendance. Participants are welcomed regardless of ability to donate.
ABOUT THE COURSE
The Safety and Empowerment Skills course is open to the public for female-identified teens and adults 13 years and older. This curriculum offers a safe space for participants to learn and practice verbal and physical assertiveness and self-protection skills. The curriculum is based on a toolbox approach – adding tools to participant skills for dealing with situations ranging from sexual harassment to life-threatening situations. Through this 12-hour course, participants will gain:
1. Understanding of the meaning of self-defense
2. Knowledge of the basics of Colorado laws about self-defense, sexual assault and sexual harassment
3. Understanding of the appropriate level of response to different kinds of confrontation
4. Skills for using stronger parts of their body against the weaker parts of an attacker's body
5. Ability to execute self-defense moves: use of voice, non-verbal assertiveness, defensive stance, moving in stance, kick to knee, hand and elbow techniques; wrist and torso grab releases; strangle hold releases; and ground-fighting techniques
6. Practice putting techniques together and thinking through an attack situation to safety
The highly-trained facilitators emphasize only a perpetrator is to blame for making the choice to assault another person – the victim is never to blame. Use of self-protection techniques is a personal choice and one that only the person being attacked can make using all the information available to them.
REGISTRATION
To reserve your space in the class, please complete the registration form (linked below) and return to Caroline Yates. If you are unable to complete the form before the course, please contact Caroline to ensure your spot is held!
Please contact Caroline Yates at 303.329.9922 x315 or cyates@thebluebench.org with any questions regarding the course. We hope to see you there!
*Participants attend each date, as course content builds upon each session. Participants may not attend the last two sessions (September 23rd and 30th) without attending September 9th and 16th, unless they have attended a previous class. Please contact Caroline with questions.